When did Swim Bike Mom get so risque?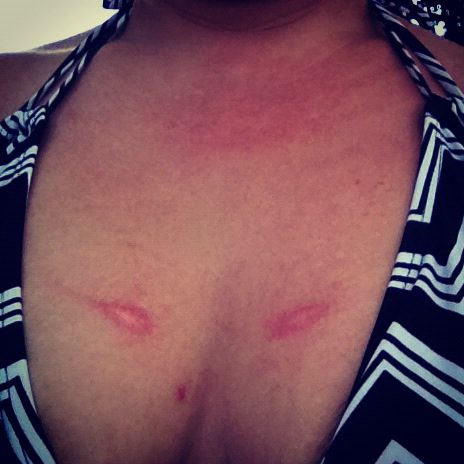 Sorry… but I had to warn you… These marks are the result of forgetting to use the Aquaphor under the sports bra today. Holy guacamole this hurts.
I told the Expert that maybe I should just get tiger prints tattooed there. I think that would cover up the issue and be super classy. No?
Irrespective of the lube fail, this was a great weekend, triathlon and otherwise.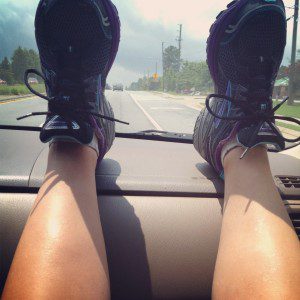 My running legs are tired. I conquered EIGHT miles today on the treadmill. (Yay, but cannot walk tonight).  The pace was slow and steady (12:30), but I am proud of it, because 1) it was still a continuous run, and 2) it was a Zone 2 run.
And that was after 50 miles on the bike yesterday with the Expert and buddy, Mark.
The bike ride yesterday was to be a brick, with a three mile run afterwards. The Expert killed the 3 miles. I ran 1.5 and limped the rest of the way home.  Nutrition-wise, I think I was good on the ride, but ran out of steam by the run. Also, running on concrete is still delicate, but I'm getting there.
The most notable thing about this past week is the clean eating.  We have been eating well, trying to sleep longer and relax more. I must say that it's working – this week I have peeled five pounds off my pre-Augusta 70.3 buns.  Not even counting the scale, I feel much better and feel a difference in my clothes.
 So what is my eating plan?
Well, I am still following Ilana's plan, incorporating Bob Harper's "Skinny Rules," and staying away from gluten, dairy and processed foods.  Trying to eat "clean" – non-processed, excellent proteins and non-gluten carbs.  On the nearly four hour bike ride, the nutrition consisted of 2 peanut butter, jelly on a gluten free English muffins. I had only one gel, and it seemed perfect until the run.
The ramp up to Augusta is ramping up. Praying for healthy body and sane mind.  No matter what, I won't be forgetting my Aquaphor next run. That's for sure.