I wore Paper Pants this evening. For fun. Okay, not for fun. For an orthopedic exam. I waited for two hours to see the doctor, an hour of which was wearing these Paper Pants….
….I was bored, and I had my iPhone, and I couldn't let myself wear Paper Pants for no real reason. So I present you with a photo montage of me and the sexy blue Paper Pants. Paper Pants porn, if you will.
Alexander McQueen will be featuring this particular
pair of the Paper Pants in the Spring collection.
In this wear-to-work look, we paired the Paper
Pants with a nice blazer and simple black tank.
Paper Pants on the move. Fun and flirty.
This is the Paper Pants Day to Night transition wear,
easily dressed up with some Tahitian pearls.
Alright, that's enough of that.
So I was at the orthopedist because
my right knee is killing me
. Started out of the blue last night, going down the stairs – not an injury of sort – just a sudden noticeable pain… and the pain really showed its butt during a squat down to pick up a paper clip this afternoon. Ouch. Luckily, I was able to get in to
Resurgens
in Lawrenceville tonight and get some x-rays and a professional opinion.
Doesn't look much like a Jumper's Knee to me. Bummer, but also, whew. Could have been a tear or something worse, so I am relieved. My x-rays did show a funny shaped patella. Super.
Wiki says, that Jumper's Knee is "an overuse injury from repetitive overloading of the extensor mechanism of the knee. It can also be caused by drug use." Wait… drug use? Okay. Well, I became a lawyer so I clearly had a crack smoking habit at some point, but not recently.
I also find it interesting that the injury arises when "the microtears exceed the body's healing mechanism… unless the activity is stopped." Exceed the body's healing mechanism. Yep, that sounds about right. Until the activity is stopped. Oh boy. Stopped??
After a final phone call with Coach Monster this evening, he addressed the physical, internal, emotional and work stress and how this knee issue is probably yes, from overuse, but also my body forcing me to slow down a little and re-center myself. I tend to agree. Obviously,
my post from earlier today
is not from someone who's center has been grounded very well lately.
So what's the plan?
I'm to rest the knee for no less than one week and preferably three (!). But I can swim and do spinning with no heavy resistance. Coach M is going to formulate a good plan for me that I am ordered to follow. Otherwise, ice and rest. Hope for
New Orleans
, but give myself a good solid break. And whine to you guys only when absolutely necessary.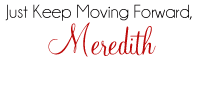 I kneed you now!